Login
Log in if you have an account
Dont have an account? Register
GOALIE PALOOZA IV
22 May 2023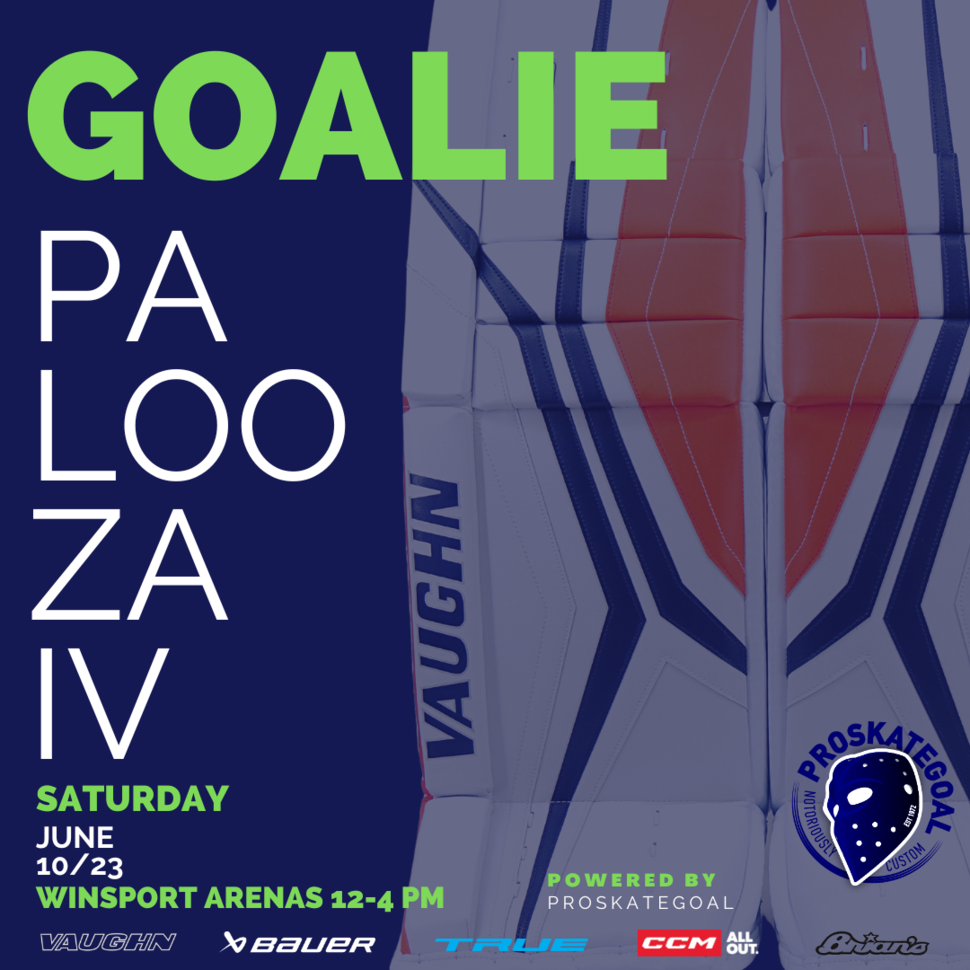 TICKETS ARE AVAILABLE HERE FOR PURCHASE: PALOOZA IV TICKETS
Yes, Goalie Palooza is back for it's fourth year with some new tweaks designed to get you onto the ice in the pads and gloves that you really want to try! As an added bonus, Tik-Tok sensation and YouTube goalie star Nick The Goalie is back for another year at Goalie Palooza! 
All of our brands are back again, in a huge way. Bauer, CCM, True, Brian's and Vaughn all return with an enhanced demo fleet, featuring all of their new models. The Covid related supply chain issues that caused so many problems for last years' event seem to be significantly reduced, if not eliminated, so we expect everybody being able to try all of the new models out. 
Bauer will lead the way with their much anticipated line of Hyperlite 2 line of gear. They will also bring with them the new X5 Pro line of pads and gloves, which replaces the mega successful 3X line that ruled the 2nd price point pad/glove world from 2020-2022. Expect Bauer to be represented by an awesome, knowledgable sales staff and over 40 sets of pads and gloves for you to put through the puck stopping experience. Bauer usually shows up with a surprise, so this year will likely be no exception.
CCM will be there as well with their new Eflex 6 and Eflex 6.9/6.5 lines of pads and gloves. This is a big year for CCM as the Eflex line is their most popular selling line and we have been eagerly awaiting it's launch, to see if the experience is a marked improvement over the Eflex 5 series. A new 581 catching glove makes it first appearance, so make sure to tell us your opinion on this new glove.
True is probably going to be the most anticipated new pad/glove arrival at the event. With 2 new series of pads and gloves, the 9X3 and the 7X3, goalies will be lined up to try these bad boys out. The 9X3 line is a senior only pro series pad with all of the same features as the Canadian made PX3 line, at a little less $ and made in ASIA. No customization however is permitted on this line up....for now. The 7X3 line will be a senior and intermediate line-up featuring 5 standard colorways, standard 590 catcher and a VERY attractive price point. expect the line-ups to be long on this product at Palooza!
Brian's and Vaughn will also be present with their latest lines. Brian's will feature the Optik 3 and Gnetik V pro series and their new line of Optik X3 pads and gloves. Vaughn will bring their new V10 pro carbon/pro line-up, in addition they will also have the SLR line with them. 
All the info you need is included in your ticket purchase from Eventbrite. Of course if you have any questions leave them here in the comment section or email [email protected].
See you on June 10th!
PJM